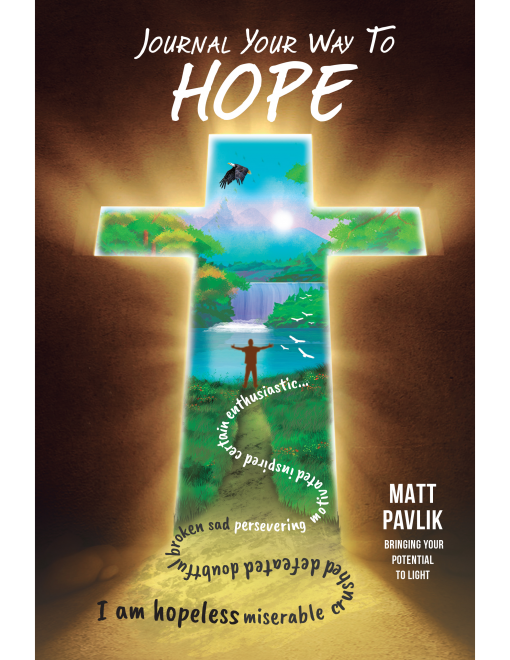 $10 to $20
Publisher:

Christian Concepts

Edition:

Journal Your Way #1

Available in:

Paperback Full Color

ISBN:

978-1-951866-01-3

Published:

April 10, 2020
Order Direct Color Paperback ($10)
Barnes and Noble Color Paperback ($16)
Amazon Color Paperback ($20)
Reading time: 1 minutes
Overflow with hope as you read each of the 30 truths about hope.
Hope enables you to endure anything.
Your past is forgiven.
Your future is secure.
Use the scriptures, quotes, and insights selected by author and counselor Matt Pavlik to Journal Your Way to Hope.
Explore biblical hope with encouraging scriptures, inspirational quotes, and Matt's reflections on hope that will have you digging deep within yourself to find the peace, joy, and strength God gives every believer. Each of the 30 truth lessons about hope includes a thoughtful picture in full color along with space to write your thoughts.
This is the first book in the Journal Your Way series. It utilizes the simple, but powerful journal-in-layers method to allow the truth to soak into your heart. Matt describes the method in a free PDF Soar Like Eagles available at ChristianConcepts.com when you subscribe to receive emails.
Contact Matt after you subscribe for the special price of $10 and the free Journal in Layers PDF. To receive the discounted price, you must order directly from Shop Christan Concepts. On Amazon it is $20 because of the high-quality color, but it will be less than $16 (with moderate quality color) at other bookstores so call your favorite store to ask for it!
Christian Living / Devotional Journal